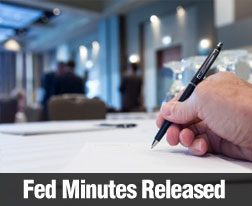 The National Association of Home Builders (NAHB) / Wells Fargo Housing Market Index reported that home builder confidence rose by one point to a reading of 62 for September. This was the highest reading since November 2005, when the NAHB reported a reading of 68 for home builder confidence. Any reading above 50 indicates that more builders are confident about housing market conditions than those who are not.
NAHB notes that builder confidence has been growing at a moderate pace since July 2014; this is in line with economic conditions in general. Relatively low mortgage rates and stronger labor markets are helping would-be buyers with their decisions to buy homes now.
FOMC Statement and Fed Chair Press Conference: No Rate Hikes Yet
The minutes of the Federal Open Market Committee of the Federal Reserve revealed that Fed policymakers have decided to wait on raising the target federal funds rate, which is currently set at 0.00 to 0.25 percent. While the FOMC statement indicated that policy makers acknowledge moderate progress in economic growth, a majority did not feel that the economy is ready to withstand a rate hike. When the Fed does raise rates, consumers can expect to see higher mortgage rates as well as increases in lending rates for credit cards and loans.
FOMC members said that housing markets were growing at a steady but moderate pace, but that inflation was lagging below the Fed's benchmark 2.00 percent level due to transitory effects of lower energy and import prices. The Fed expects that inflation will reach its 2.00 percent goal over the medium term and will not likely raise rates until FOMC members are confident that inflation will rise as expected.
FOMC members continued to assert that any decision to raise rates will be based on close review of domestic and global financial and economic trends and will not be based on meeting the Fed's dual mandate of achieving maximum employment and an inflation rate of 2.00 percent.
Committee members also said that economic conditions could continue to warrant keeping the target federal funds rate below normal levels for the longer term.
Fed Chair Janet Yellen gave a press conference after the FOMC statement concluded. She addressed questions about the Fed's decision not to raise rates and said that concerns over global developments contributed to Fed policy makers' decision not to raise rates. Ms. Yellen explained that a stronger U.S. dollar has caused deflationary pressures and increased competition for U.S. exports. The Fed isn't overly concerned about global conditions at present, but changing circumstances could change the Fed's likely intention to raise rates before year end.