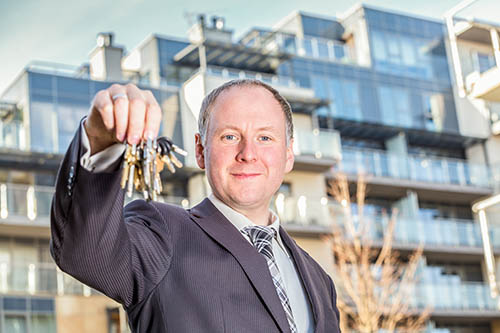 Fail to complete these renovations before selling your condo and you may be missing out on huge profit gain! Don't sell yourself short, tackle these reno projects before your home hits the market to maximize offers.
#1: Is It Time To Paint?
Painting is one of the most cost effective ways to make a property look newer, bigger, and brighter. Scuff marks and scratches are one of the most common types of wear-and-tear, but they're also a huge turn-off to buyers, which makes this easy renovation is a no-brainer. Choose paint colors that are neutral to ensure that they're adaptable to the wide variety of interior design preferences that your potential buyers will have.
#2: Let There Be Light(ing)!
Old light fixtures can not only bring down the aesthetic appeal of your condo, they can also give it a gloomy vibe. Adding new light fixtures to your home will brighten the space and provide it with more vibrant energy while also increasing the modernity of its design. Now that's a bright idea!
#3: How Is Your Flooring?
Flooring is another design element that can easily make an old unit look more modern, especially if your condo is carpeted. By replacing the floors you can also avoid the possibility of a buyer trying to deduct the cost of floor replacement from your sale price, which would most likely outweigh the cost of doing your own reno in advance.
#4: Spruce Up The Kitchen With New Counters
Changing kitchen countertops is one of the effective ways to spruce up an outdated kitchen. Since countertops are so large the eye is drawn to them immediately, making them a key design factor. Many modern buyers prefer high quality stone such as granite or marble, though there are many stylish options to choose from if visual appeal is what you're after. Add new countertops to give your condo that "WOW" factor and you'll instantly tack on extra value to your property.
#5: Don't Forget Your Balcony!
Balconies are often overlooked when it comes to condo showings, so if you choose to pay attention to this significant detail you'll not only stand out from the competition but will also showcase an important selling feature of your home. Dress the balcony to show its functionality: does it fit a BBQ, table and chairs, lounge chair, planter? Adding some furniture will show the possible uses of the space, making it more valuable to potential buyers.
Ready for a successful condo sale? Contact your trusted real estate professional today for further advice.