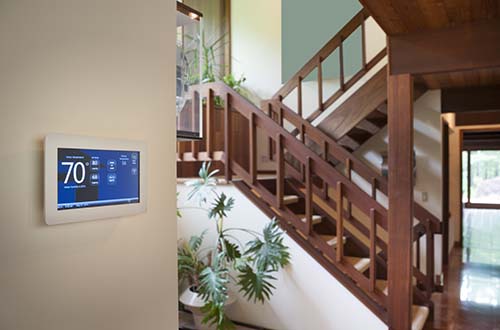 It's no secret that high-tech homes can provide a more effortless living experience while also being just really, really cool. If you're looking to up-the-ante and introduce high-tech gadgets into your home, check out our top three smart-home suggestions:
1. Robotic Vacuum Cleaner
Robotic vacuum cleaners are one of our favorite high-tech toys as they can alleviate a significant portion of the burden of your regular household chores. They're even more beneficial considering the fact that they can also make your home much more comfortable to live in.
Food crumbs, pet fur, and dust bunnies are no match for an iRobot Roomba, which will soon become your own personal home-cleaning minion. Your house will feel cleaner and look more pristine, and you won't even have to lift a finger!
Bonus: these things have serious entertainment value. Google "shark cat" if you don't believe us.
2. Smart Thermostat
This high-tech addition is a fantastic way to boost comfort within your home while also controlling household expenses. When you invest in a smart thermostat, a small sensor will be able to detect the temperature in each room of your home, adjusting the heat flow accordingly.
With no more uneven heating throughout your house; the chilly den that you dread working in will now become a usable space! On the flip side, your thermostat will no longer be blowing heat into rooms that have already hit your desired temperature. Now that's what we call a 'smart' home upgrade.
Bonus: smart thermostats work for air conditioning as well, meaning that they can help ensure your stuffy guest room is as cool and comfortable as the rest of the house.
3. Sleep IQ Bed
You've likely heard of sleep number beds, whose firmness is independently adjustable on each side of the mattress, but have you heard of their newest add on, the Sleep IQ?
Sleep IQ beds monitor your sleep by tracking a number of factors such as your heart rate, breathing patterns, and movement throughout the night. Based on these stats, the bed will recommend ways you can improve your overall sleep quality, and ultimately your overall health.
Bonus: since you can adjust the firmness of each side of the bed independently, you and your partner will never have to compromise on your preferences again!
Looking for a more high-tech home? Speak to your trusted real estate professional today to learn what exciting new options are available to you.